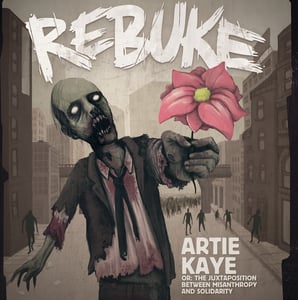 €

5.00
Available exclusively through our UK Label: Disconnect Disconnect Records
Disconnect Disconnect Records [DIS011]
Socks Off Collective [SOC002]
Length: 6:13min
Tracklist:
A1. It Really Stinks In Here
A2. Black Screen, Eyes
A3. Bandname and URL Withheld
A4. Operation Shitstorm
Rebuke are releasing their first ever vinyl record "Artie Kaye" in a joint effort with Disconnect Disconnect Records (UK) and Socks Off Collective (Swe). With four new tracks the band follows up their extolled 2010 album "Wouldworks" and continue to refine their fast technical hardcore.
Recorded over a weekend at LBS in Varberg, this time the band employed the drumming skills of Wigge Molinder (Hold Hands), and the mixing/mastering proficiency of Gustav Burn (Atlas Losing Grip) to perfect what surely is the bands best sounding piece of audio released to date.
So join Rebuke in their exploration of their love/hate relationships with everything from themselves, humanity and indeed punk rock itself.
The 7 inch vinyl will be available to pre-order/order exclusively from Disconnect Disconnect Records online store and is limited to 200 copies; 100 on yellow wax and 100 on regular black. It will also be available as a digital download from iTunes, Spotify, Amazon, etc on April 1st.