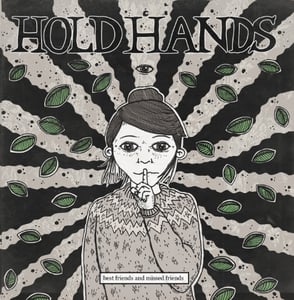 €

5.00
Hold Hands are releasing their debut EP on the newly founded Swedish label Socks Off Collective. Hailing from Kungsbacka, a small town just south of Gothenburg, these Youngsters started playing together in 2009 with the ambitious goal of taking the hardcore genre to new levels. While maintaining the core of the music - that being hard and fast - Hold Hands aren't afraid to mix it up with soothing choruses and beautifully melodic guitars. They even boldly change between swedish and english vocals with ease.
Taking influence from both hardcore acts like Refused and Section 8, more melodic acts like Propagandhi and At The Drive-In to post rock acts like Explosions In The Sky and And so I Watch You From Afar, Hold Hands wields a truly unique sound that despite the wide range of musical references is delivered with rock solid confidence.
The members had other musical projects before they joined forces, but with Hold Hands they all feel they've truly found their calling. This is something that clearly shows on the quintets first release "Best Friends & Missed Friends" which with it's immensely bombastic and intense sound leaves even some of todays more prominent hardcore acts in the dust. While touring continously in Sweden the band is now ready to take on Europe and the rest of the world. Because despite everything, the biggest strength lies within their live performance where both the band and the audience gets the most out of Hold Hands.
Tracklist:
01 It Felt Like Winter All Over Again
02 Vinden Vänder
03 Our Last Hopes To Hold On To
04 Ta Vara På Tid
05 Våra Sista Dagar Som Barn Pt.1
06 Våra Sista Dagar Som Barn Pt.2
Play time: 19min 50sec
You DON'T need a PayPal account to place an order!